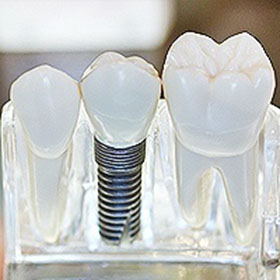 At Avenue of the Arts Dental, we are regularly asked questions about being a Prosthodontist and why patients should visit one. There are specialties in dentistry just like there are in the medical field. Prosthodontics is one of those specialties and centers around replacing teeth. If you have experienced tooth loss, visiting a prosthodontist in Philadelphia, PA will likely produce better results than if you were to visit a general dentist, because you will be visiting someone with more educational and clinical experience. With that in mind, we encourage you to visit our 19146 dental office and discuss your teeth replacement solutions, even if you are under the current care of a general family dentist. To schedule an appointment, call (215) 545-0660. In the meantime, here are the answers to a few frequently asked questions.
What is a Prosthodontist?
A Prosthodontist is a licensed dentist who has received additional training to specialize in the branch of dentistry that focuses on restoring and maintaining the functionality of the mouth, be it replacing missing teeth or restoring bone density after resorption. This is done using prosthetic devices like dentures and partial dentures, dental bridges, and dental implants, along with conducting procedures like bone grafts. A oral prosthetics doctor has the expertise necessary to not only replace missing teeth, but to do so in a way that looks entirely natural and feels comfortable, so both the form and function of your smile can be restored. As a oral prosthetics doctor, we are also referred to as a prosthetic dentist. If you have suffered from tooth loss, we encourage you to call 215-545-0660 and schedule an appointment to speak with Dr. Mark Hoang DMD. At Avenue of the Arts Dental, we are confident in our ability to provide you with a durable tooth replacement that will allow you to speak and smile with confidence and eat your favorite foods without restriction. To learn more, visit our Pennsylvania dental office today.
Why should I see a Prosthodontist over a regular dentist?
Experience. As a oral prosthetics doctor, we have additional experience both in education and in the number of hours we have spent performing procedures replacing teeth. You can visit a dentist who tends to focus on preventative care and only replaces teeth occasionally, or you can visit a oral prosthetics doctor who spends a significant amount of time doing so.
Philadelphia Oral Prosthetics Doctor
What types of procedures does a Prosthodontist perform?
As a Prosthodontist, we can perform a variety of procedures to replace your missing teeth. This includes the more traditional option of dentures. We have found that many patients still prefer to wear dentures as either a temporary or permanent tooth replacement. Whether this decision is made for convenience or budgetary reasons, we can ensure your dentures will be created in a way that looks like a natural set of teeth and that the fit is snug and secure for maximum comfort. Another tooth replacement solution is a dental bridge. In this procedure, we place dental crowns on the two teeth surrounding the missing one. These crowns serve as anchors to hold the bridge and new tooth in place. This solution is semi-permanent, remains in place, and provides you with a stable chewing surface while restoring the appearance of your smile.
As a oral prosthetics doctor, the procedure we most recommend for replacing teeth is dental implants. This is because an implant is the only solution that replaces the visible portion of the tooth and the missing root. To qualify for the procedure, you need to have sufficient bone density for the implant to secure to. If you do not, we can discuss options for a bone graft that can be done in order to prepare your jaw for implant surgery. Once ready, we will implant a small titanium post under the gums, securing it to the jawbone in each place you are missing a tooth. This can be done to replace one tooth or all your teeth. There are also hybrid solutions that use implant technology to secure a full set of teeth in place. The reason dental implants are so sturdy is because the titanium post and jawbone fuse together through the process of osseointegration. As a result, the jawbone will provide stability to the implant like it would to a natural tooth, and the implant will provide the stimulation the jawbone needs to prevent resorption. This symbiotic relationship is the best for your oral health and your long-term appearance.
Will my recovery process be faster if I visit a Prosthodontist?
There is a high likelihood that it will. This is because a Prosthodontist has additional education and clinical experience when it comes to replacing teeth and performing procedures like the placing of dental implants. Anytime a medical provider has more training in a specific area, they will have a greater understanding in how the body will respond to certain procedures and how to best ensure a fast recovery. To learn more about how we place dental implants, call and schedule an appointment with Dr. Mark Hoang DMD.
Does a Prosthodontist offer more procedures than a general dentist?
In our 19146 dental office, we offer a variety of solutions for replacing missing teeth. The number of procedures a oral prosthetics doctor offers in comparison with a general dentist really depends on that particular dental office. In ours, we focus on providing the highest quality dental care and understand that offering a variety of solutions is important for ensuring our patients receive what they need. As such, we are always looking for innovative approaches and best practices that will give our patients a durable and natural-looking solution to tooth loss. One of these is dental implants. Implant dentistry requires oral surgery, so not every dentist offers it. At Avenue of the Arts Dental, we can provide you with dental implants that replace both your visible tooth and your root, so you can be confident in the appearance and functionality of your smile.
Where can I find a Oral Prosthetics Doctor?
That is simple – call (215) 545-0660 to schedule an appointment with Dr. Mark Hoang DMD. As a Philadelphia, PA Prosthodontist, we can provide you with a superior level of dental care, and we welcome your calls, even if you are currently under the care of another family dentist.
Helpful Related Links
About our business, license, and website security
Avenue of the Arts Dental was established in 2012
We accept the following payment methods: American Express, Cash, Check, Discover, MasterCard, and Visa
We serve patients from the following counties: Philadelphia County
We serve patients from the following cities: Philadelphia, Harrisburg, Oxford Township, Ardmore, Yeadon, Darby, Lansdowne, Drexel Hill, Ardmore, Springfield


Healthgrades. View Background Information and Reviews
Website Safety Ratings and Reputation – AVG Threat Labs. View Details
Norton Safe Web. View Details
Trend Micro Site Safety Center. View Details
Back to top of Prosthodontist