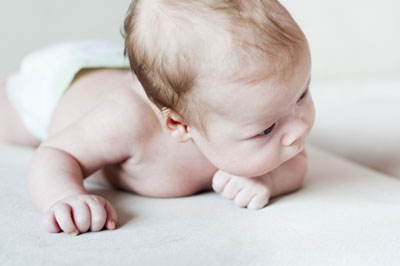 To find out if your child's teeth are developing properly, schedule an appointment to speak with a pediatric dentist in our office. Most children's teeth will grow in properly without any intervention. Children are technically born with all of their teeth. The body typically knows when teeth should descend and naturally begins the process as the child grows.
While there are things we can do to assist the tooth descending process, it is usually unnecessary to do so. Still, many parents want to make sure that there is nothing wrong with their child's teeth and double-check that they are likely to come in properly. This is perfectly understandable and we will be happy to complete an examination and make that determination.
Teething
Babies can begin to teeth as early as a few months old. Typically, teeth will begin coming in around six or seven months of age. Just keep in mind that when we evaluate a child's development, we are looking at a range of developmental milestones. Sometimes, children will teeth early while others will teeth late. No matter what, the timing is usually a natural process within a relatively normal range.
So, instead of worrying that a child may not be developing as they should, call our office for an examination. If the child seems to be particularly upset while teething, we may be able to assist with the process.
Losing teeth too early is problematic
When it comes to the healthy development of teeth, the body knows what it is doing. Bany teeth will naturally fall out when the permanent adult teeth are ready to descend. If they fall out too early, the permanent teeth will not be ready and the gap may remain for a prolonged period of time. This gap can cause overcrowding if the teeth around that open space begin to encroach upon the area for the new adult tooth.
To prevent this from happening, we recommend visiting our office twice a year so that we can keep teeth clean and reduce the likelihood of dental decay or infection. Visiting twice a year will ensure that the child will not need to lose a tooth unnecessarily.
It is important to establish good habits with help from a pediatric dentist
Keep in mind that a child has all of their teeth when they are born. This makes it important to establish healthy habits such as eating a good diet that contains plenty of calcium. Keeping teeth and bones strong is necessary since there is no replacement for them.
It is also important to teach a child to brush and floss correctly and bring them to our dental office. We can help to establish a routine that the child can continue throughout a lifetime. The routine and regular visits will help with the development of teeth.
Visit our pediatric dentist office in Philadelphia
So…
If you have any questions about the development of your child's teeth, want to make sure that they are coming in properly or have a general checkup, give us a call. We will be happy to treat your child and answer any questions that you may have.
Request a pediatric dental appointment here: http://www.avenueartsdental.com or call Avenue of the Arts Dental at (215) 545-0660 for an appointment in our Philadelphia dental office.
---
Related Posts
March 17, 2017
Pediatric DentistAs a pediatric dentist, we specialize in treating children and infants in need of dental care. The earlier you begin the proper dental care measures for your child, the better chance at a healthy …
---