Laser Gum Recontouring
A patient asks why her teeth are so short and her smile showing too much gingiva (gums). So we introduce her to gingivectomy (gum contouring), specifically laser gingivectomy, to reshape the gingiva margins to expose more tooth structure while minimizing pain and speed up healing.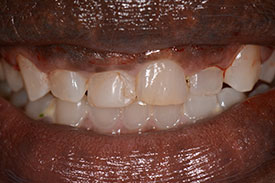 Clinical findings:
Incisors width appeared longer than length
There are pockets of 2-3mm on facial gingival sulcus
Patient's gingiva is naturally more abundant that it cover too much of teeth
Results: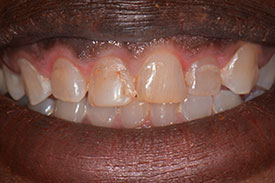 We utilize laser to trim away roughly about 2-2.3mm gingiva and recontour to bring out the emergence profile so that the length is longer than width to satisfy the golden proportion. Patient's smile is more pleasant with less gum showing and balanced proportion from one tooth to the next. Laser gingivectomy is a perfect way to alter the teeth appearance and smile while keeping pain and morbidity minimal with less bleeding or no bleeding at all.
Call our Philly office or leave us a message to schedule a consultation and find out how laser gingivectomy can benefit your smile.
---
Related Posts
April 27, 2017
Laser DentistryWe can use laser dentistry to treat your teeth instead of traditional metal tools. People who struggle with fear of dental cleanings or pain at the dentist can experience the painless treatment from laser …
---