Laser Assisted Root Canal
Laser assisted root canal therapy is a new paradigm in treating infected root canal systems that addresses two major disadvantages of conventional root canal protocol which are the deep disinfection of dentinal wall and the inability to remove all infected and dead tissues in hard to reach irregular anatomy of root canal systems.
The laser work by producing a non-thermal photoacoustic shock waves within the cleaning and debriding solutions introduced in the canal. The canals and accessory canals are left clean and the dentinal tubules are free of a smear layer. When the laser is introduced into the tooth access, we can see the solution is pulsating with debris of dead tissue streaming out of the access hole. The canals are now free of dead tissues along with disinfection of canal system.
Because the ability of laser to reach and clean accessory canal, the root canal sealer can be introduced into the hard to reach anatomy which result in better seal of root canal and further prevent future re-infection of the tooth. This can be seen with a line of radiopaque radiating from main canal to surrounding tissue.
Laser is less invasive and keep the removal of dentinal tissue minimal which will leave the tooth more strong and reduce the chance of ledging or perforating the canal.
Case Study: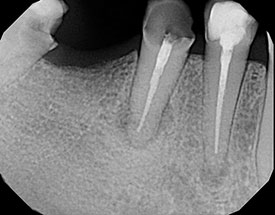 Patient presents to our office with pain on lower right posterior, upon exam and x-ray, we determined that tooth number 29 has periapical lesion with root canal previously treated.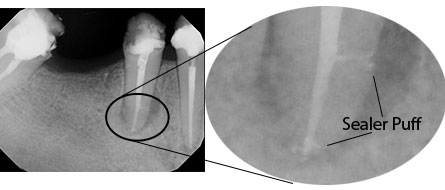 We removed old gutta percha fillings and the laser was used to disinfect and remove all debris and dead tissues.
Result:
The laser effectively cleaned out all old gutta fillings and reached to accessory canal to remove dead tissues and the root canal sealer is able to penetrate through it which can be seen by a line of radiopaque radiating from mid section of root canal (figure 2). Furthermore, it debrided the root delta (tip of root section) which was not evident in the pre-op image.
If you have needs for root canal therapy and would like to learn more about laser assisted root canal procedure, call us at 215-545-0660 to set up a consultation at our Philadelphia office, Dr. Mark welcome!
---
Related Posts
April 27, 2017
Laser DentistryWe can use laser dentistry to treat your teeth instead of traditional metal tools. People who struggle with fear of dental cleanings or pain at the dentist can experience the painless treatment from laser …
---