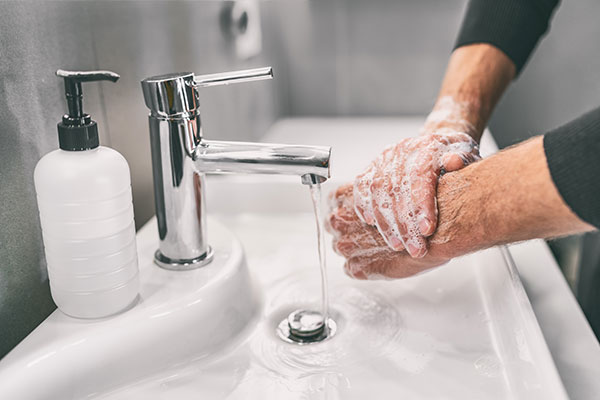 Like everyone else, you have concerns about Coronavirus Disease (COVID-19). You want to avoid the disease, but you still need services such as dental care during this time. You can take comfort to know that your dentist is taking all the appropriate steps to watch out for you. When you go into the office, the dental staff is being cautious and prudent.
When to get dental care during the Coronavirus Disease (COVID-19) pandemic
Across the world, health officials are urging people to stay home. Only trips for essential supplies and needs are wise. People continue to need health care for non-COVID-19 issues. This includes dental services. Patients should postpone routine wellness checkups and elective treatments such as teeth whitening. Dental offices continue to operate for emergency procedures. These include teeth restorations and treatments for infections, injuries and severe tooth decay.
Limiting people in the office
Dentists want fewer people in their facilities during the Coronavirus Disease (COVID-19) outbreak. To do this, practices are staggering appointments. This keeps more people out of waiting rooms so that not many people are gathered in the same place. Dental staff members are also urging patients not to arrive early.
Those who do show up before their appointments may wait in the car until the dentist is ready to see them. For an emergency visit, patients should call ahead of time. Patients should not bring more than one person with them to the office. If possible, patients should come alone.
Prepping the office
Dentists and employees will follow guidelines from the American Dental Association. These steps will help to prevent Coronavirus Disease (COVID-19) transmission. Staff associates will disinfect contact points in the office. These areas include doors, doorknobs, light switches, countertops and furniture. Dentists should remove all objects from waiting rooms, such as magazines and brochures. Where possible, dental staff can put up glass partitions at the front desk.
Monitoring employees' health
The dentist should examine the health and wellness of staff members. Any assistants or hygienists who show signs of sickness should not come into work. Dentists should be aware of Coronavirus Disease (COVID-19) signs and symptoms. These include fever, dry cough and difficulty breathing. If any employees have these issues, the dentist should notify the person's health care provider. Dentists should report patients with COVID-19 to the local health department.
Taking precautions
The ADA advises dentists to use facemasks for single use only. Dentists should replace masks after working on each patient. Eye protection and shields are also effective at keeping fluids off the dentist and assistants. The dentist should wear gloves when examining and treating patients. An infected patient may still have emergency dental needs. The dentist should coordinate care with the person's doctor in these cases.
Not taking any chances
During this time of uncertainty, you want to do your part to prevent Coronavirus Disease (COVID-19) transmission. Though you want to remain home, you still may have an emergency dental condition arise. You can take comfort to know that your dentist will take ADA-approved steps to protect you and other patients. If you have concerns about your visit, share those with the dentist.
Request an appointment here: https://www.avenueartsdental.com or call Avenue of the Arts Dental at (215) 545-0660 for an appointment in our Philadelphia office.
Check out what others are saying about our services on Yelp: Read our Yelp reviews.
---
Related Posts
March 16, 2020
Looking for more information on oral surgery procedures? According to the Centers for Disease Control and Prevention, oral surgical procedures involve the incision, excision or reflection of tissue that exposes the normally sterile areas of …